Vinyl Siding Installation and Repairs in Medina, OH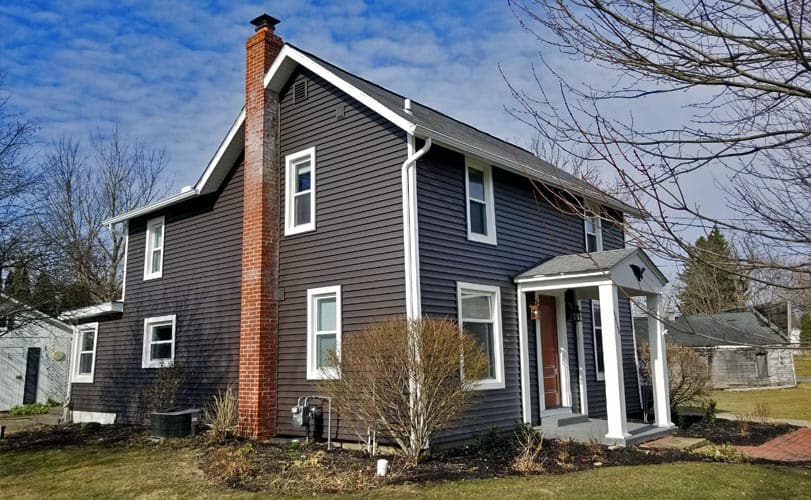 Has your home's siding begun to take on a worn appearance? Are you simply not satisfied with the way it looks or functions anymore? These can be excellent reasons to reach out to Medina Exteriors & Remodeling for our professional recommendations on what to do.
As a premier Medina, Ohio, vinyl siding installation company, we're well-versed in all areas of
vinyl siding repair
.
We'll complete a thorough inspection of your current siding and give you a proposal of what we recommend.
Request A Consultation
!
Why Choose Vinyl Siding in Medina, Ohio for Your Home?
You may have noticed that your neighbors are choosing vinyl siding in Medina for their houses. Why? Our experience with vinyl siding repair and installation has given us the following insights:
Vinyl is suitable for all types of architecture. Because vinyl siding is so versatile, it can be useful for just about any home design. This makes it a practical, manmade material that will add curb appeal to your home.
Vinyl is highly durable. We all know that Ohio's weather can be rough and unpredictable. The vinyl siding that we work with is strong and built to withstand Mother Nature.
Vinyl cleans well. Keeping the outside of your home in pristine condition is simply easier when you have vinyl siding. This means more time spent enjoying your downtime, rather than spending it on maintenance issues.
Vinyl siding is cost-effective and lasts. Since it has a very long life and function expectancy, this makes it an economical and practical choice — not just a gorgeous one.
Get Your Vinyl Siding Repaired Sooner Rather Than Later
Your vinyl siding is there to protect your home and your family. Be sure that it's ready to perform at the highest possible levels every day of the year. Medina Exteriors & Remodeling is ready to make the repairs necessary to bring your home back to its original beauty. We have the skills to make repairs efficiently, giving you a finished product that seamlessly matches your current vinyl siding.
Vinyl Siding Design Options
Did you know that vinyl siding isn't just a way to protect the exterior of your home, but also a way to beautify it? Many designers prefer to use vinyl siding because it offers aesthetic variety and appeal, not to mention long-term durability you can count on for years.
Medina Exteriors & Remodeling's service staff is trained and certified in the installation of CertainTeed Siding. CertainTeed Siding is available in a wide variety of styles and colors, including insulation-backed siding for improved home energy efficiency, giving you yet another way to save money without compromise. Contact us now through our online form, or call us today to learn more.
Additionally, see our other siding projects in our blog.
Other exterior work we do includes roofing, decks & railings, and windows & doors.