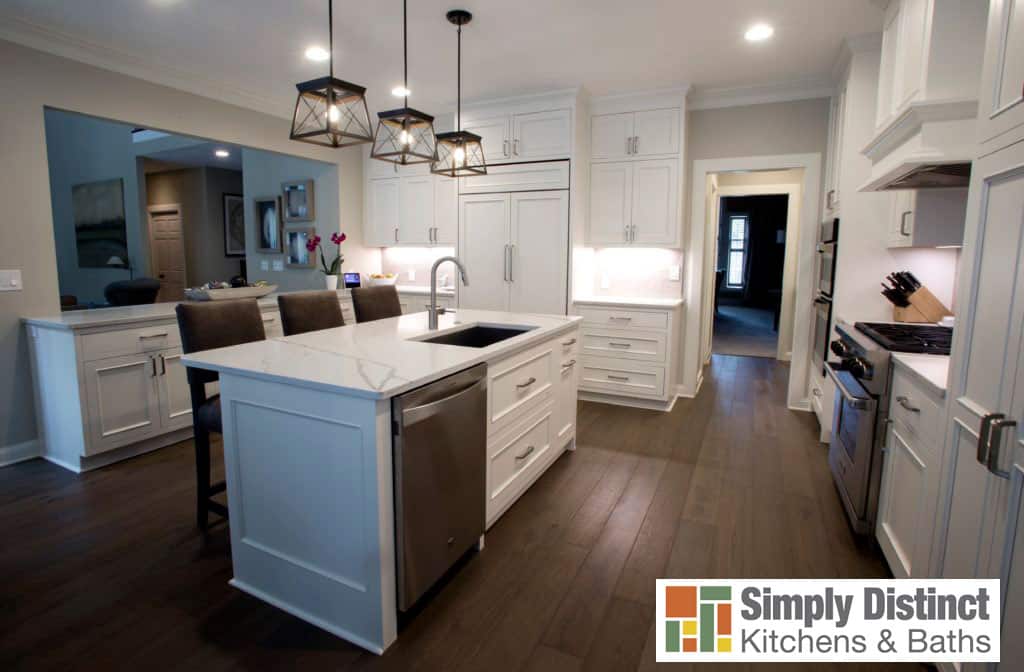 Our remodeling kitchen contractors help you through each phase of your new kitchen project. Don't just take our word for it. Check out our Kitchen Gallery for some fresh ideas and see why we're a favorite for many homeowners in Northeast Ohio. When you're ready, fill out the form below or call us to get started.
High Traffic Areas
Are you feeling crunched, like sardines?  Your kitchen doesn't need to feel this way.  Imagine an open feeling and functionality you deserve.  We love improving lives by improving homes.
Kitchen Design Ideas
Old, worn out look? You don't have to live with an eyesore. Let us help redesign your kitchen space with today's modern products and technologies.
Kitchen Remodeling and Expansion
Is your kitchen cramped or is your family growing? Let us help you stay in your home with a newly designed kitchen and eating space to accommodate your growing needs.
Home Improvement Value
Improving your kitchen is one way to increase your home's value and help in selling it in the future. Our design team is ready to help you invest just the right amount to get better re-sale and enjoy it till you do move.
Remodel a Kitchen Now
Do you spend a lot of time in your kitchen? Do you love creating wonderful meals for your family? If so, let us create your dream kitchen incorporating all the modern conveniences, with function, to help you be the star of your kitchen.
There's a lot to consider during a kitchen remodel, for both large and small kitchens. You may want:
Beautiful new cabinets. Cabinets can completely transform an outdated kitchen into a place that seems fresh and new. We can recommend a variety of cabinet types based on your preferred style of décor. Best of all, your cabinets won't just look great — they will also enable you to use the space you have more practically.
New counters and sinks. Have you had it "up to here" with your countertops or kitchen sink? Counters and sinks take a tremendous amount of wear and tear over the years, and they can begin to show their use. Our kitchen remodeling company has a knack for suggesting the ideal types of countertops and sink models for your needs. Talk to us about what you want, and our designers will do the rest.
Stylish kitchen flooring. There are so many types of kitchen flooring options, from Spanish tiles to high-quality hardwood. Depending upon your desired outcome, we can assist you in choosing the flooring that will make you smile every time you walk into your kitchen space.
Stylish floors – Flooring is an important element in any bathroom. Whether you want tile, stonework, luxury vinyl tile planks (LVT) or something completely unique, Medina Exteriors & Remodeling is ready to help.
Efficient use of space or an entirely new layout. Over the years, our kitchen remodeling professionals have come across some truly inefficient kitchen layouts. If you have tons of wasted space in your current kitchen, we can help you increase your efficiency by showing you some new layout designs. You'll love being able to finally make good use of all the areas of your kitchen.
Keep Your Project On Time With Our Digital Remodeling Tools
Silver
Replaced hardware on cabinets

New solid surface counter tops

Added tile backsplash with accents

Added tall contrasting pantry cabinet

New LVT flooring– grouted

Extended island counter top and arched

New pendant lighting

New solid surface sink

New sink faucet

New disposal

All mechanicals same location
Gold
New cabinetry & Hardware

Redesigned spaces

New solid surface counter tops

New Stainless sink

New faucet

New disposal

New Tile backsplash with accents

Built in pantry

Wainscoting on peninsula

Crown added to soffit and entire room

New LED can lighting

New LED under cabinet lighting

New pendants
Platinum
Re-designed floor plan

Walls added / Removed

Soffit removed

Relocated Appliances

Custom Cabinetry

Solid Surface counter tops

New flooring

New LED can lights

New LED under cabinet lighting

Decorative crown

Tall double pantries

Wall oven/ Microwave

Window moved

New sink

New faucet

New disposal

New pendant lighting

New Stainless Steel Hood

New Hardware