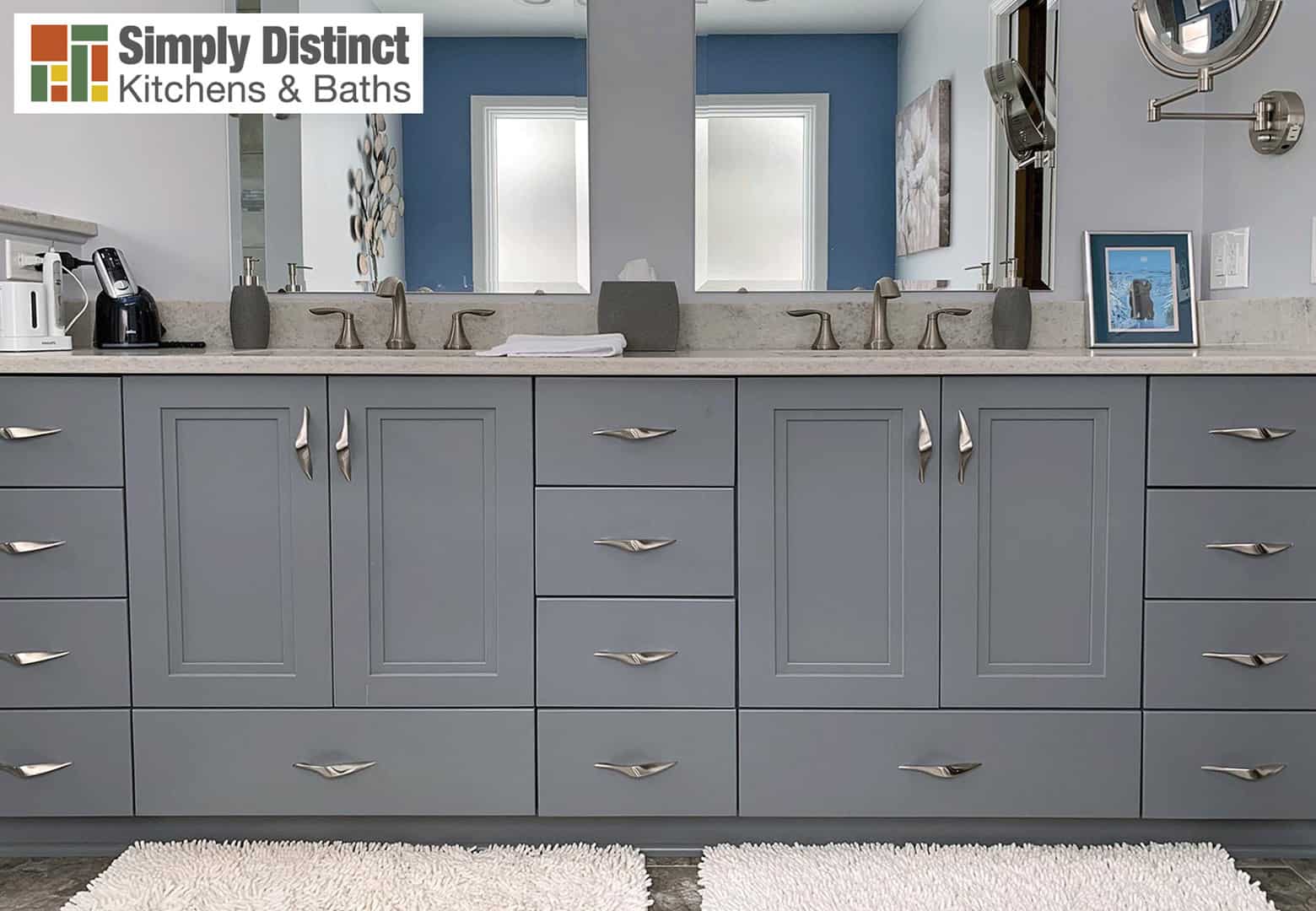 There are plenty of reasons homeowners pick up the telephone and get in touch with Simply Distinct Kitchens & Baths, or use our handy online form to get more information. Some of their biggest reasons for partnering with local bathroom remodeling contractors in Medina, OH include:
Bathroom Remodels


Getting up in the morning to a dysfunctional bathroom or fighting with your spouse for the sink can start your day in a sour mood.  Let us create functionality and form to sweeten your day with a fresh

bathroom remodel in Akron OH.
Outdated Bathroom


Old, Musty, worn out look…Whether your bathroom needs a total redesign or a facelift, our talented team is able to use bathroom remodel tools to create an oasis, spa-like feeling.
Design Ideas
Is your bathroom to small or just a horrible design?  Let us look at the total space around the current bathroom to see if we can add space or a better design for today's life styles.
ADA Compliant & Wheelchair Accessible
If you love your home and life has changed the way you access your bathroom, let us help you stay in your home with a bathroom that allows you easy access and functionality.
Home Improvement Value
Improving your bathroom is one way to increase your homes value and help in selling it in the future.  Our design team is ready to help you invest just the right amount to get better re-sale and enjoy it till you do move.
Many people choose us for their bathroom remodeling contractors because we take care of everything. You can also have a look at our bathroom gallery to know more about our previous work and ideas. For a typical bathroom remodel, you may want:
A relaxing tub or shower experience – If you find yourself trying to get in and out of your bathroom quickly because it's not a calming environment, it's time to give us a call.
Quality counters and sinks – Are you still using the countertops and sinks that were in your house when you bought it? If they are old or outdated, you're missing out on some incredible chances to truly renovate your bathrooms.
Beautiful new cabinets – We have many types of cabinetry that we regularly recommend to homeowners. Choose the cabinets that will make you fall in love with your bathroom.
Stylish floors – Flooring is an important element in any bathroom. Whether you want tile, stonework or something completely unique, Simply Distinct Kitchens & Baths is ready to help.
Plumbing (that works!) – Functionality is a must-have in any bathroom. If you've been struggling with subpar plumbing, we can update all your plumbing systems during your bathroom remodeling project to give you peace of mind.
Ventilation – Being able to get air in and out of a bathroom is absolutely necessary. No matter where your bathroom is located in your home, we will be able to determine a high-end, reliable ventilation sys
Keep Your Project On Time With Our Digital Remodeling Tools
Silver
Replaced Cabinets

New Hardware

New counter tops

New Sinks

New Tub, tub walls, tub filler

New Flooring

New Light fixtures

Framed Mirrors

New toilet

All mechanicals same location
Gold
New Vanities

New counter tops

New Sinks

New Tile Flooring

Minor framing

Enlarged tile shower with glass enclosure

Semi framed shower door

New relocated toilet

New vanity lights

Some mechanicals moved
Platinum
Walls added/removed

Walk-in shower

Décor cabinets

Two sinks

New counter tops

New tile flowing with accents

Frameless shower glass and door enclosure

New hardware

New vanity lights

New relocated toilet

New mirrors

Heated floors