How to get more of what you want without paying more than you can
We all have big dreams. When it comes to your home, those big dreams are personal. You want the best for yourself and your family. You want the nicest kitchen countertops, which leads to wanting new kitchen cabinets and, ultimately, a remodeled kitchen with a center island and high-functioning drawers and hardware.
Or you see a friend's newly remodeled bathroom, and you want something like it for yourself. You need the bathroom space, so you want a two-person quartz vanity, plus the glass-walled shower and the multi-jet bathtub.
But what will it cost? And can you afford the kitchen remodeling or bathroom remodel of your dreams?
In the latest episodes of the Tell Your Friends podcast, Brett Ruiz of Simply Distinct Kitchens and Baths, an interior home remodeling contractor in Medina, Ohio, talks with a couple of customers who wanted the best and made the best decisions for themselves, their family and their budget..
Meet Peg
In episode 8, we meet Peg Bollinger.
Peg had already had all of her windows replaced with Medina Exteriors, the exterior remodeling parent company of Simply Distinct Kitchens and Baths. But then she wanted the interior remodeled. She wanted all of her floors redone, including replacing the basement carpeting. And she had been wanting her kitchen remodeled for over twenty years and hadn't pulled the trigger. For the kitchen, she wanted a huge center island and enough space to handle her new refrigerator.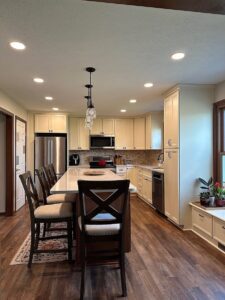 "At the beginning, I had very grandiose plans," said Peg. "And then you said, you know, let's be real." That happens a lot with home interior remodeling projects. The desire is greater than the available budget. Brett worked with her to get the project on point.
Peg remembered, "And so the design that you (Brett) came up with to make what I wanted to happen was great. And it was within my budget and worked out perfectly."
Sometimes it just takes a little bit of planning and focus to bring a kitchen remodeling project to reality. You don't want to give up anything, but you want to be able to afford it. A pinch here and a new idea there can make almost any project a "dream" come true.
"I was a little concerned about the budget at first, but then we worked it out so I could get just about everything that I wanted to be done," she exclaimed. "I wanted to knock down walls and get the bathroom done…and it just was, yeah, that was just not possible, but eventually."
Brett Ruiz reminded her that they actually ended up doing way more than even he thought they could. "We actually ended up doing the whole first floor, all the flooring and tying some things and making it a little bit more functional. You actually did not knock that wall down going into the den area, the dining area. And that island is, I'd say, probably pretty close to one of the biggest islands that we've installed."
It also helps that Simply Distinct Kitchens and Baths features a designer who can help pick out the right fixtures and product materials to make a great space come in on budget and with excellence. "Mariah helped me walk through picking out stuff," Peg said.
And what does she "Tell her Friends"? "I mean, the one question I got from everybody is like, oh, did they go over budget? I was like, no, they stayed on budget and on time, and it was great."
Meet Felicia and Dave
Episode 9 features Felicia and Dave Moehle.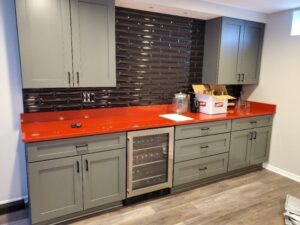 The interesting thing about this project is that the Moehles are actually related to Brett Ruiz and are a tight part of the family. That means budget is an even bigger issue, as good business decisions and treating family fairly is crucial. Dave and Felicia wanted a fence, a master closet, many improvements to their new home, and an updated kitchen to make it "theirs."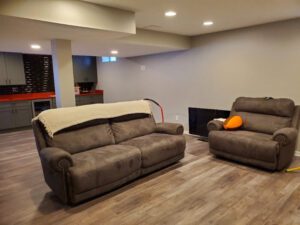 Brett remembered that they tackled the project in stages. "We did a fence for Eddie George (the family dog) and the master closet…and then gave you a referral on some things to do in the kitchen." Why didn't they do more?
"I always wanted once we had our own house to make my man cave, so to say, or my area to kind of entertain and have friends over or just have the kids down there and play," said Dave. "So when we moved into the house, it was an unfinished basement with lots of good space down there, but we were looking to kind of make it a fun place to entertain."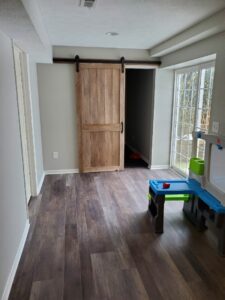 "I know I had conversations with you, had conversations with Felicia about what we wanted to do," he continued. "We came into your office there and went through plans. You showed us renderings of what we could do. I discussed things that I wanted, things that I didn't want at the showroom there, and we kind of just built it from there and built the blueprint and whatnot."
That's how dreams come true. Planning for any interior home remodeling project, like kitchen remodels, bathroom remodel, and finished basements, requires "give and take." Some things cost more, other things can be added as necessary amenities. Real planning with a true professional can make it all work out.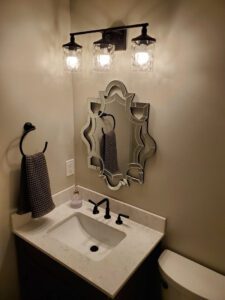 Finally, there are always decisions that can be made on doing some of the work yourself to save budget. Dave and Felicia were given the option to do their own painting to save some money. "We were taking on some of the stuff ourselves, which you guys openly give that option of."
Be as Happy as Peg, Felicia, and Dave Were
In the end, you'll get what you pay for on just about any interior home remodeling project. But when you work with a real pro who takes the time to understand your needs and develop a customized plan for you, you can get more for your money almost every time.
At Simply Distinct Kitchens and Baths, we are improving lives by improving homes. In that equation, budget matters. So does the end result.
The Tell Your Friends program is a virtual guarantee that you'll receive service like this because it's on us to make sure that we are doing "Great Work Worth Talking About." For more information about home remodeling, kitchen, and bath remodeling projects, or anything needed to revamp your home to make your dreams come true, call Simply Distinct Kitchens and Baths, at (330) 439-5482.