The Tell Your Friends guarantee means you get "Great Work Worth Talking About", no matter how much remodeling work you need!
This month, we shine the light on two recent kitchen and bathroom remodeling projects that weren't "either-or"…they were both! Lots of folks worry about how long a project will take when they are considering a home remodeling project, or how displaced they might feel during the home remodeling construction process. After all, having a remodeling contractor in your home for a long period can be daunting.
Unless it's done right! And since "Great Work is Worth Talking About", let's see what our friends are saying about large multi-room remodeling construction projects on the Tell Your Friends Podcast.
In episode Number 7, Brett Ruiz talks with Tom and Megan Giltner. The Giltners were living in a condo and found a new home that needed to be ready for them to move in. But it needed more of a full home renovation than they were expecting. They had a short window of time and worried that if the home renovations weren't ready, they'd not have anywhere to go.
Brett remembered the project well. "We did three bathrooms, did the master bathroom, we did the first-floor bathroom, and then we did the powder room. And then we did the renovation, just kind of a makeover of the kitchen. And then we did kind of a coffee bar and the wet bar."
That's a lot of work in a small window of time.
But the Tell Your Friends guarantee made it happen! "It was a tremendous sense of relief throughout the process knowing that we're hitting every benchmark along the way" reported Tom Giltner, "and then ultimately I think we got done a week early and so we were able to move in and and not have a bunch of chaos around us".
Brett Ruiz, the owner of Simply Distinct Kitchens and Baths appreciates the feedback. "It was good to be able to get you guys into your space, and out of the rental".
Still, whenever you are renovating a kitchen, or going through a bathroom remodel project, there is reason for worry and concern. A whole house renovation raises the fear factor. But Tom and Megan were confident in the recommendations made that lead them to Simply Distinct Kitchens and Baths. "Most of it is anxiety around when is it gonna be done? When do we start? Is it gonna be right?" worried Tom. "But having seen your work at other friends' houses, we knew the quality was gonna be there.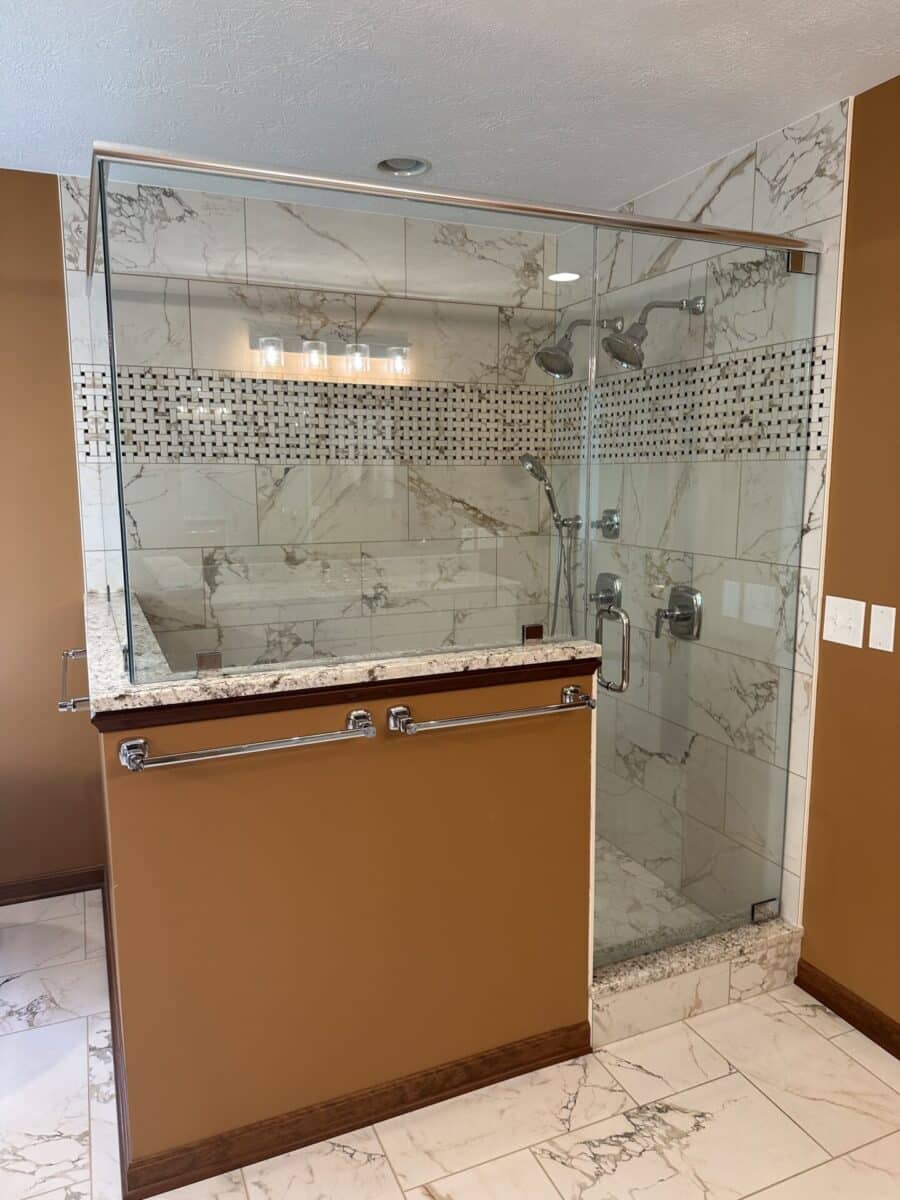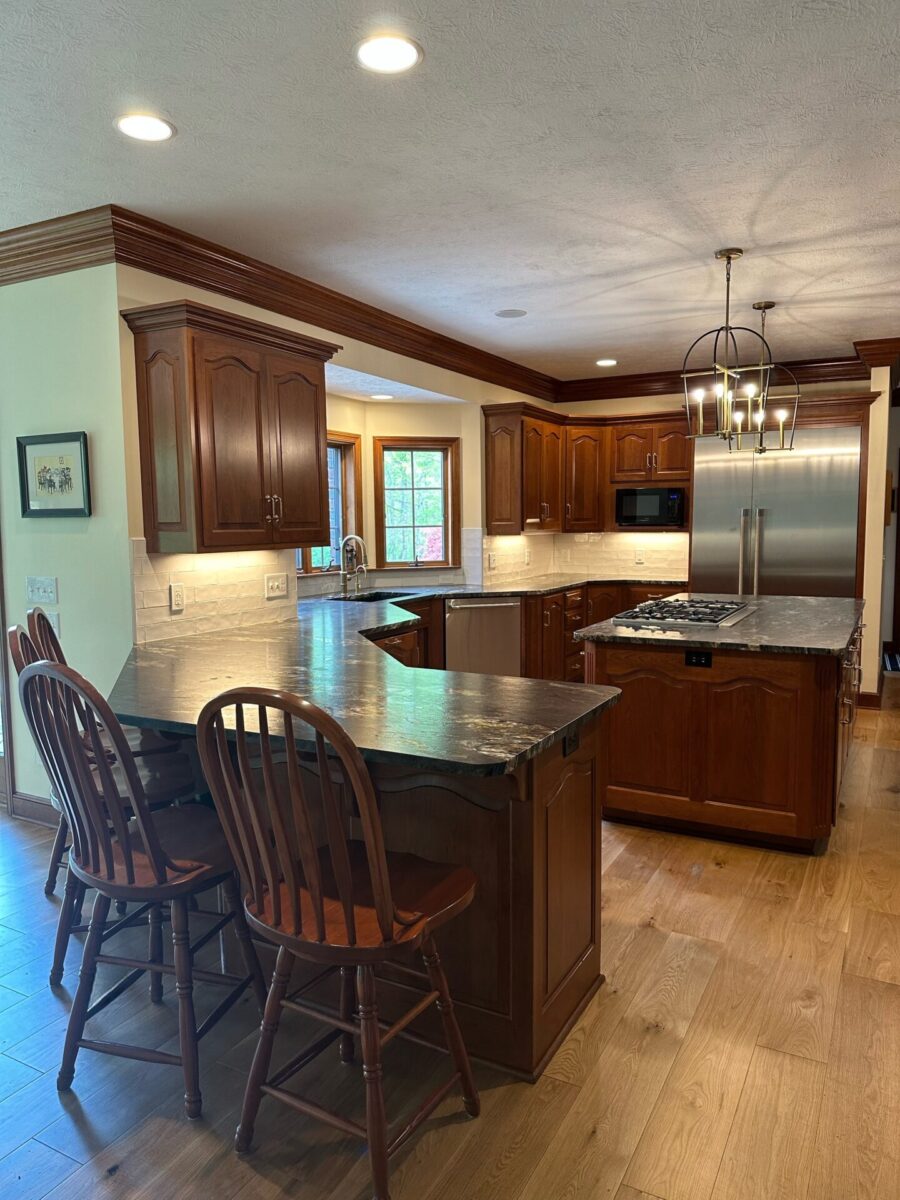 In the end, it was work worth talking about! Megan loved the bathroom "I think we achieved the taking it out of 1995, which was our goal. Our biggest renovation was our master bathroom. It was non-functional to start with and the way you laid it out and opened it up it kind of turned into a retreat for us".
"Looking around and it's all fresh and new. And I don't think there's a surface in the house we didn't touch, right?" Tom recounted with his wife Megan. "Through painting a wallpaper or floors, carpet, I mean, hardwood. So we did top to bottom, we touched all of it and you can feel it."
The bottom line? Tom and Megan summed it up perfectly. If you're doing a large renovation with a kitchen and bathroom and more, "find a team like yours (Simply Distinct Kitchens and Baths) that you don't have to babysit and that's going to relieve a lot of stress and anxiety.
We also spoke with Mike and Amanda Kelly in Episode 2 of the Tell Your Friends podcast.
The Kelleys engaged Simply Distinct Kitchens and Baths to do a little bit of everything. They did a kitchen remodeling project, a new master bathroom and shower remodel, adding a walk-in pantry to the dining room, and installing flooring and fireplace work. And they called in Brett's exterior remodeling company, Medina Exteriors, to help with replacement roofing from a storm over the garage. That's a lot of work!
What could go wrong? First of all, communication is key, especially if you're living in a home going through a remodeling project.
Communication mattered to Amanda. "I remember the communication software and if you guys said you would be here at nine am you were. There there were never any surprises at all."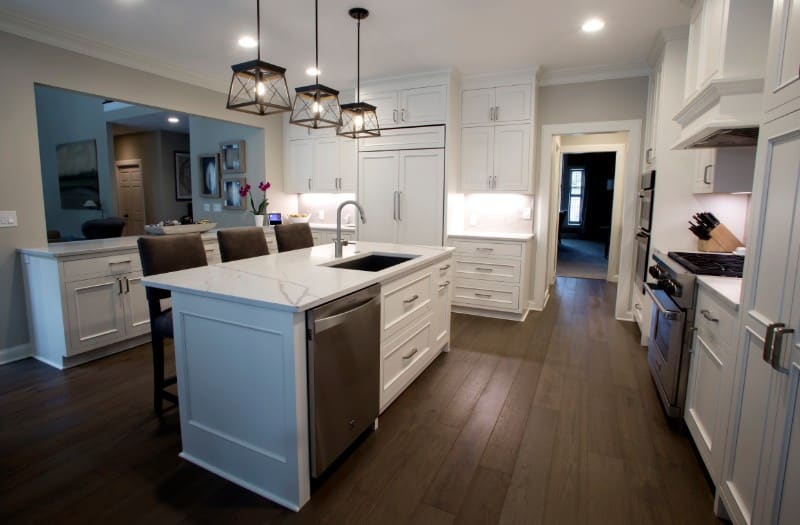 Mike loved the kitchen remodel, and how it came out in the end. "The kitchen just looks dramatically different, it looks much larger," Mike said. "Everything just looks cleaner with white cabinets and just some of the design concepts you guys were able to bring forward. It's awesome!"
But it wasn't all perfect. In almost any home remodeling project, almost anything can go wrong. In this case, there was a problem with the shower installation in the master bath remodeling portion of the project.
"I wanted as many sprayers as possible" recalled Mike. And the water would "hit the door and then leak out and a lot of water got on the ceiling tiles, and then you realize that no matter the little fixes we tried it was just going to have to be redone". But that's why you hire a professional, to be there when things go a little sideways.
"I will never forget this," said Amanda. "(Brett Ruiz) came out and he looked at it and he said 'We can keep coming here and doing all these bandages fixes but ultimately this is going to be a problem for you and I owe it to you to make it right. You trusted me to give you a dream bathroom." Mike and Amanda will never forget it. "Brett completely moved the door, and it wasn't a small thing. He moved the door and he made it right and you know he took care of it on his time and he a thousand percent made it right."
And so what can be learned from this for choosing home remodeling contractors in Medina in the future?  Amanda speaks it pretty clearly. "I don't care what you're doing or what contractors you work with, there are just things that come up that you can never anticipate no matter how many years of experience you have. The key is working with someone willing to make it right and see it through to the end and not leave any project unfinished or less than desirable".
We are improving lives by improving homes. And the biggest projects, like whole home remodels or multi-room remodeling projects can put that mission to the test. That's why we promise excellence, and then deliver it.
The Tell Your Friends program is a virtual guarantee that you'll receive service like this because it's on us to make sure that we are doing "Great Work Worth Talking About". For more information about home remodeling, kitchen, and bath remodeling projects, or anything needed to revamp your home to make your dreams come true, call Simply Distinct Kitchens and Baths, at (330) 725-2235.