Why Great Work Worth Talking About takes open and real communication right from the start.
We launched two episodes this month of the "Tell Your Friends" podcast.  They both shared a common theme of planning for success.
Steve and Donna Stein talked about why they needed to remodel the kitchen, and what they wanted to accomplish.  Watch the video here:
"We lost half our appliances last winter", Steve said.  "They just died.  And so we decided to just remodel the kitchen at that time.  We wanted to have as much storage as possible, and I think we accomplished that."
They wanted a black kitchen sink so that it wouldn't show dirt and wear over time.  And they also wanted better lighting and under-counter lights as part of their kitchen remodel.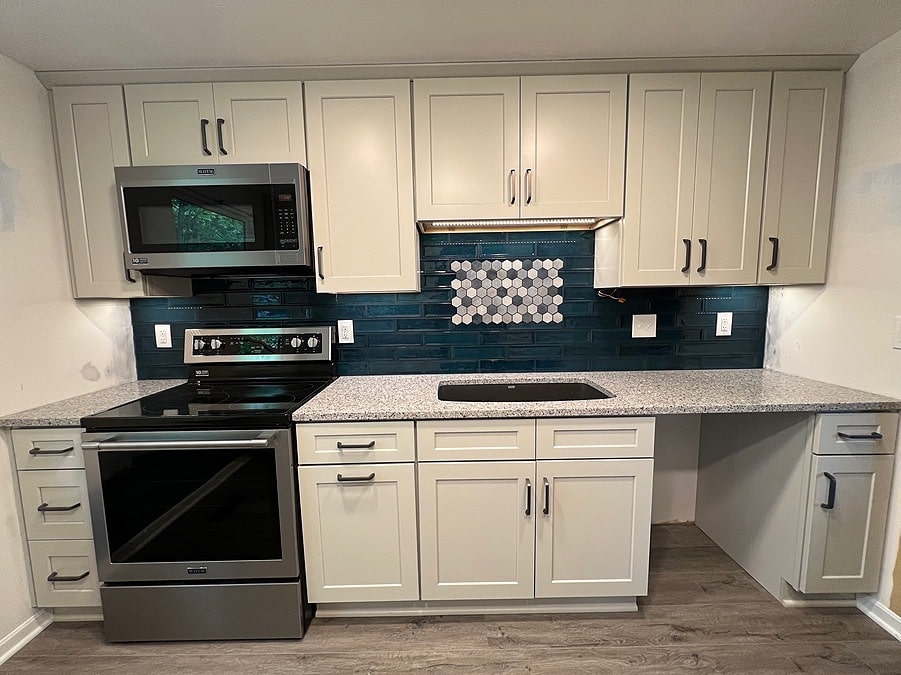 Planning was key.
Steve said that when planning for the kitchen remodel project, he "spent some months building up to the project, making notes and writing down specifically what we wanted. So when Simply Distinct came to the first meeting, I had it all done. I don't think there is anything on the checklist that you guys weren't able to do".
But.  It's important to trust the experts.
"You hire an expert.  I'm not an expert" Steve and Donna said.  "You talk to them and they recommended things.  You can ponder and decide if you want to do it or not."
"You know," Steve said, with wife Donna looking on knowingly, "the customer is always right, but sometimes the experts are smarter than you!"
Brett Ruiz, owner of Simply Distinct Kitchen and Bath in Medina, Ohio, and the host of the Tell Your Friends podcast summed it up nicely.  "You do some research and then hire an expert.  Taking advice is okay so that you can make an educated decision."
Donna and Steve were quite pleased with the kitchen remodeling project.  "It worked out great," said Steve.  Any time I had a question or a concern I asked, and I got an answer right then or maybe the next day or two.  It was all good!  We are extremely pleased with you and your workers and the whole process.  Very happy with it".  Catch the whole video and see other episodes too, on the Simply Distinct "Tell Your Friends" YouTube video channel
In this month's second "Tell Your Friends" podcast, we talked with Bonnie Caesar who also planned for success in improving the functionality of her kitchen.
"The kitchen was large but there were elements of it that didn't work for us," said Bonnie.  We needed more storage.  We had to replace the appliances.  Our stove actually caught fire, so this was the perfect time to do a kitchen remodel.
Once Bonnie had a plan, she took the plan to three contractors for bids.  She found the quotes were "all over the map".  One quote was too good to be true.  One quote was a "ballpark" guess.  "When we came into your showroom, you were very open and accommodating.  We felt immediately at ease with choosing Simply Distinct Kitchen and Bath.
However, even the best-laid plans have obstacles to overcome. Simply Distinct installed a "Smart" faucet as part of her kitchen remodeling plan,  and Bonnie didn't know all the things it could do, how it functioned, etc.  In his typically humble manner, Brett responded with a lesson learned.  "That's great feedback.  Maybe we need to show people how to use their Smart Faucet!"
Just like Steve and Donna Stein, Bonnie also commented on how important expert guidance is to a kitchen remodeling project.  "It was a nice thing to feel like you had expert guidance", said Bonnie.  You know, you can walk into a big box store and tell them what you want and it's cookie cutter, and they come and put it in"
"Our kitchen is nothing like that.  We've gotten so many compliments and people that come in and say 'Oh I love that tile', or "Wow, I love that range hood'.
When Brett pressed her to make sure she was fully happy with the kitchen remodeling project and the kitchen remodeling contractor, he received a glowing testimonial and recommendation.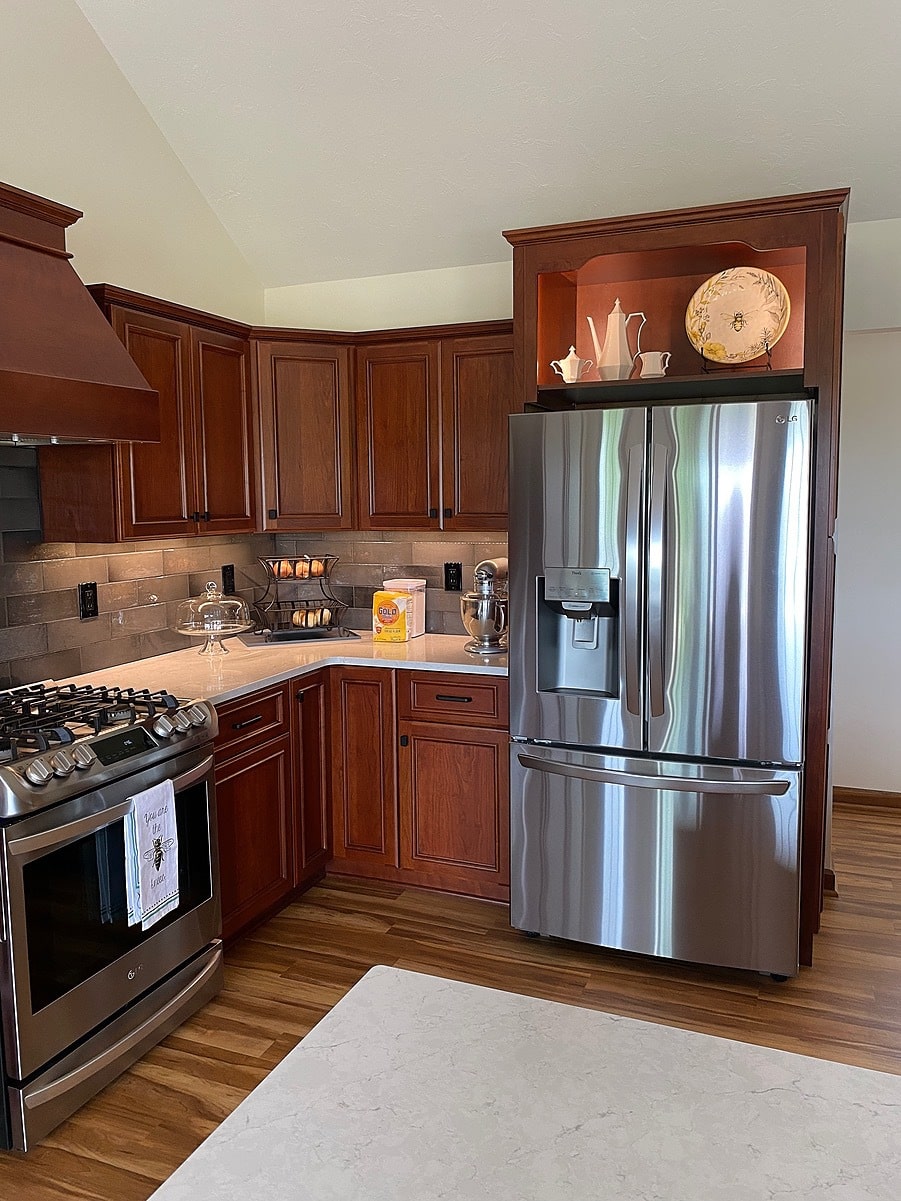 I would not hesitate to recommend you to anyone.  I would not hesitate to have you come and do another project here.  I wouldn't even bother getting another estimate."  She continued, "One morning we had the plumbers, the electricians, the painters, everyone come out and assess to they could sit around a table later and organize everything and plan it.  It was wonderful".
Watch this episode and catch past episodes here, on the Simply Distinct "Tell Your Friends" YouTube Channel.  You can also find video and audio links at the Great Work Worth Talking About website, on Apple Podcasts, Heart podcasts, Spotify, and wherever you stream your favorite shows.
Kitchen and bathroom remodeling projects aren't easy.  But planning ahead makes them successful.  If you are looking to remodel your kitchen or bathroom, give it some thought first.  Talk about appliance selection and improved functionality.  Discuss the layout and a design that can meet your needs. And by all means, take some time to think about timelines and budgeting expectations.
Then, take your dreams to an expert contractor who can not only make them come to life, but make suggestions on how to improve upon your great ideas to save time and money, and to increase efficiency and long-lasting happiness and satisfaction in your home.
If you're in the market for a kitchen or bath remodel in Medina, Ohio, remember "Great Work is Worth Talking About".  Find a kitchen remodeling contractor people will recommend, and you'll be well on your way to improving your life, by improving your home.
For more information about Brett Ruiz, Simply Distinct Kitchens and Baths or the Tell Your Friends podcast virtual satisfaction guarantee, contact us at (330) 725-2235
Find these and all of the "Tell Your Friends" podcast episodes at www.greatworkworthtalkingabout.com