If you are considering a home interior construction project, kitchen remodel, or new bathroom installation, there are so many decisions to make. It can be overwhelming trying to decide even the simplest things. A homeowner like you is concerned about budget and timelines. You want to know what styles and colors and functionality will serve you in the long term. You may wonder about resale value, hidden costs, and product selection.
But all of those questions pale in comparison to the biggest elephant in the room: what home remodeling contractor will you hire?
It's a huge question because the decision will make or break the project. It is the most important decision to make because it basically answers each of the questions we have already raised. Your contractor of choice will set the budget, inform design and functionality, find the products, and be the team that starts and finishes.
There are so many contractors to choose from, each suggesting a different budget, style, quality, and timeline. The hard part is that you won't know whether you picked the right one until after the project is completed. You'll think that you made the right decision, but you won't know for sure. In the meantime, all you can do is hope.
So—How Do You Choose a Contractor?
What to look for, what to question, and how to know for sure.
The obvious option is Google reviews. How many "stars" and reviews does the contractor have? That's a great start, but remember, there is always more to the story. Lots of great contractors put very little effort into encouraging others to write reviews. Honestly, how often do you leave reviews after an interaction? Plenty of poor contractors hire people to generate reviews for them and reward the highest scores. So, these are good places to start, but not the most effective places to end your search. Of course, if all of the reviews are poor, well…you know what to do.
How about just doing a Google search and picking the bathroom remodeling company that pops up first? Google searches can be misleading. Many people think Google puts the best at the top, but that's not always the case. You'll likely find great contractors at the top of the page, as the best companies care about their reputation. But rest assured, stopping at the top of the list may leave you wanting.
You can combine those two and pick three highly rated companies at the top of the Google page to come out and give you quotes. But in the end, you'll likely have three vastly different numbers and a general "feel" of what's right for you. A lot can go wrong based on a number and feel. You need information you can trust.
Want to know the number one way to choose a home remodeling contractor for your kitchen or bathroom? Ask your friends. Just tell them how much you love their home improvements, and ask them who did them. They'll tell you a name. Then…dig in.
5 Questions To Ask When Getting a Remodeling Contractor Referral
Here are five questions to ask your friends and neighbors about their home remodeling contractor that will help you decide if they are a good fit for your project.
#1 "Did they call you back?"
You'll find that many won't. Ask your friends right from the start how difficult it was to communicate with the bathroom remodeling contractor. If your friend had to try really hard to track them down, it might not be worth your effort, even if the project went well. You won't have to hunt down a reputable contractor.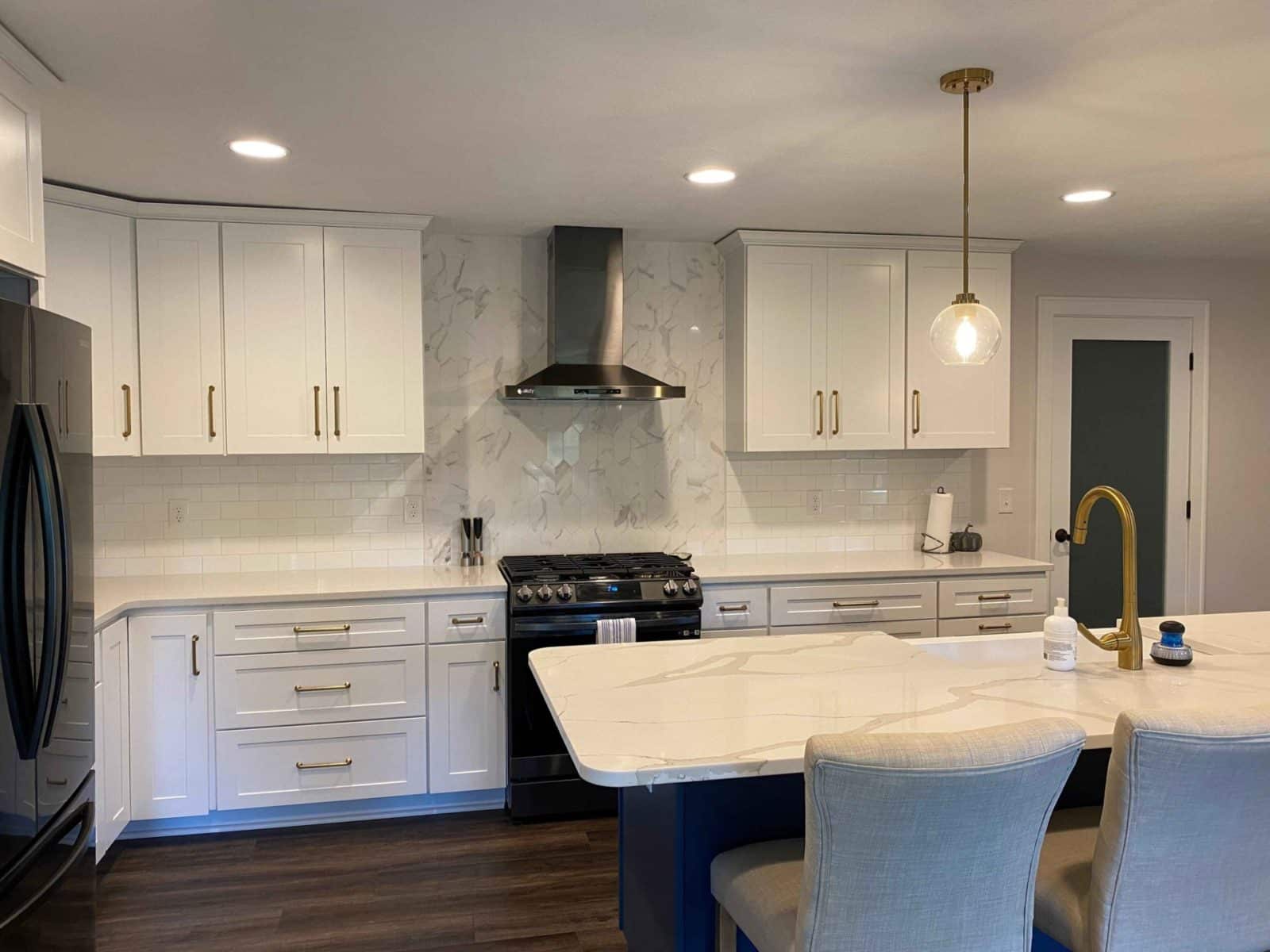 #2 "Did they show up on time?"
You can tell a lot by how someone respects time. Did they start on time? Did they finish on time? Did they make excuses or say "I'm sorry" a lot?
When someone respects your time, they will likely respect you and your home. Your friend may say that it was "a process" but things ended up ok. That may be a red flag. If a home contractor is successful, yet runs the business in a professional way that leaves you with the feeling that you are his only customer, then you've found someone to put at the top of your list.
#3 "Did they communicate any issues?"
Almost every project will have bumpy spots. If you ask a neighbor if the kitchen project went smoothly, the neighbor will likely waver. That's not a bad thing. Problems are expected. How a kitchen remodeling contractor handles those problems is the key. Ask how issues were documented, communicated, and solved. Perhaps a well-documented and finished bumpy project has more to say about the contractor in question than the silent yet seemingly perfect project.
#4 "Did the project come in on budget?"
You may not want to ask, "How much did it cost?" That depends on how close you are to your neighbor! But you can certainly ask if the project came in under budget. Budgets are based on quotes, and quotes are based on expertise. A reliable contractor will provide a real quote that doesn't increase along the way. Just as importantly, a real quote should satisfy real expectations, not just be low to earn the business. Ask your friend if they feel like they got their money's worth. That will tell you a lot about the bathroom remodeling contractor.
Finally, "Did you like them?"
Why does that matter? Because these people and their teams will be in your home, making an impact in the kitchen and bathroom where you spend so much of your time. Budget, respect, communication, and expertise all play a tremendous role. But likability, things like character, optimism, readiness, etc., is what is long remembered.
The bottom line is simple. Great work is worth talking about. Referrals and introductions make the world go around in business. If you have a friend who is willing to brag about her home remodeling project, then you have a direct line to an interior remodeling contractor you can count on for excellence, every time.
Now that your work is almost done and you know how to choose a kitchen or bath remodeling contractor, you have one final thing to do. Make sure you tell your friends about them when the project goes well. Great work done for you, and done for your neighbors and friends in your community is good business for everyone. Ask your friends. Then tell your friends. The cream will rise to the top.