The Tell Your Friends virtual guarantee shines the light on what happens when things happen.
This month, two more podcast episodes were launched.  This time, the common theme of excellence included an "oops" tucked in with a ton of satisfaction!  When you remodel a kitchen or a bathroom, things can go wrong.  You should expect some hiccups along the way with any custom project.  The key is that you aren't disappointed with the end result. In other words, did the contractor own it, and did they make it right?
Deb Skull owns a home and shares it with her mom.  They spend a ton of time in the kitchen and wanted a more functional space.  Watch the video here:
"It's a brick ranch from about the 1960 era", Deb explained. "And the kitchen had not been updated. It was closed off. I think the original cabinet, had some doors that were missing. Very small, very, very dark. So we knew that we needed to get that usable and functional, functional both first."
Deb hired Brett Ruiz and Simply Distinct Kitchens and Baths in Medina to do the kitchen remodel project.  "It's now very functional. We have cabinets like the kitchens with countertops. We have three workstations in here, cutting tables, so it's just been amazing the difference in what we can do."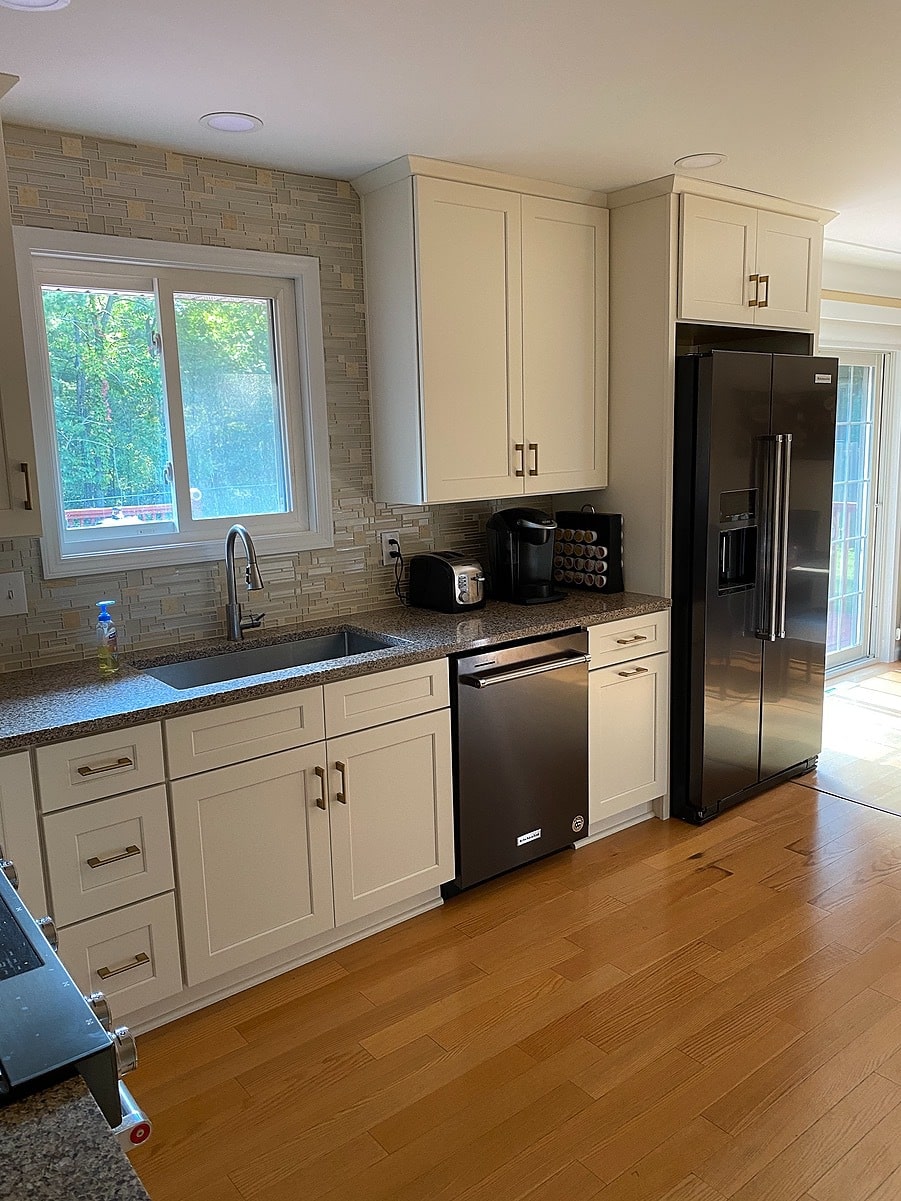 But Deb and her Mom also love to do crafts and remodeled the basement to create a Craft room to enjoy. Shelves were an important part of the remodeling project.
"The shelves had gone up and I was so excited" Deb began.  "But they didn't go the whole length of the cabinet, and they were…just awful.  They weren't. Centered. They were stuck to one wall!"
Brett and his team owned it.  "And then you realized I think that you had ordered the wrong size" Deb explained.  "So you just immediately ordered more. The guys came in and installed them".
There was another opportunity for disaster, averted because Simply Distinct owned the issue. With family visiting for the holidays, the kitchen wasn't quite ready to roll.  Vacations time didn't stop Brett from delivering satisfaction.
 "They (Simply Distinct crew) just did it real fast", said Deb.   "It wasn't the final product but they trimmed it up so it would fit and work and by the time my company was here, we didn't miss a beat."
And that's why it matters whom you choose, explained Deb.  "It was great. That's the kind of thing that you know money doesn't buy. That's just really awesome customer service".
Brett responded in a typical humble manner "I forgot about that. That was probably a little more stressful for you than your shelves being a little bit smaller. So that worked out well."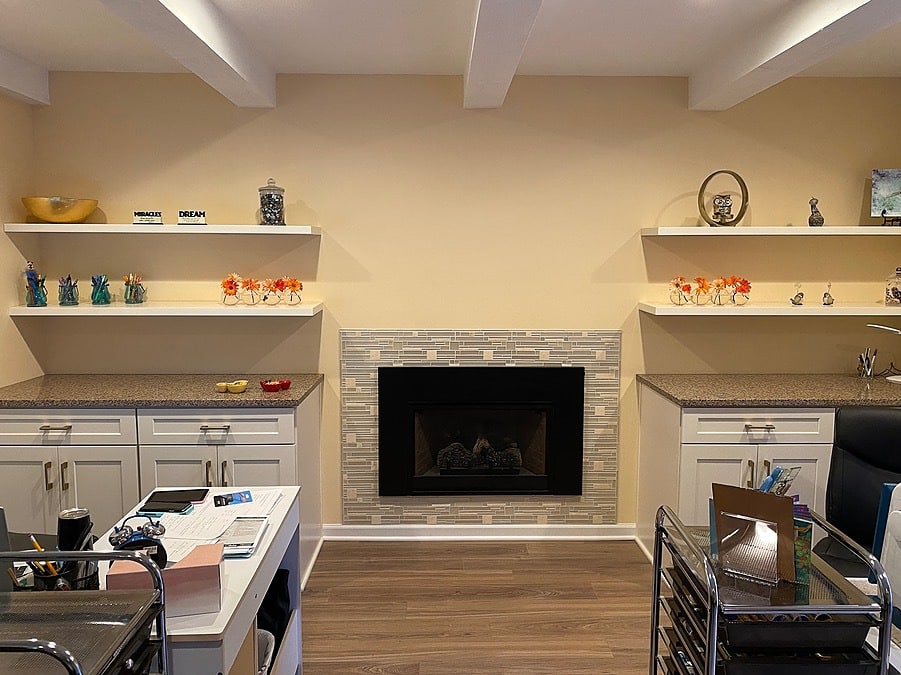 Deb Skul was ultimately very pleased with the kitchen remodeling project and the basement remodeling project for the craft room.  "It's like having a family doing the work", she said.  "That's the best way I can explain it." Catch the whole video and see other episodes too, on the Simply Distinct "Tell Your Friends" YouTube video channel
In this month's second "Tell Your Friends" podcast, we talked with Alan Close who had his bathroom remodeled, as well as an updated kitchen and even a fireplace improvement in the living room and adding a pergola out back.
"I looked for a couple of months for a local contractor that I could project my idea for completely changing the master bathroom at my house in Brunswick, Ohio," Alan said.   "I had spoken to several of them, and it seemed to me they wanted to take me in a direction I wasn't comfortable with".   Alan then found Brett Ruiz and Simply Distinct Kitchens and Baths.  Brett came out to do the estimate.  Alan was impressed.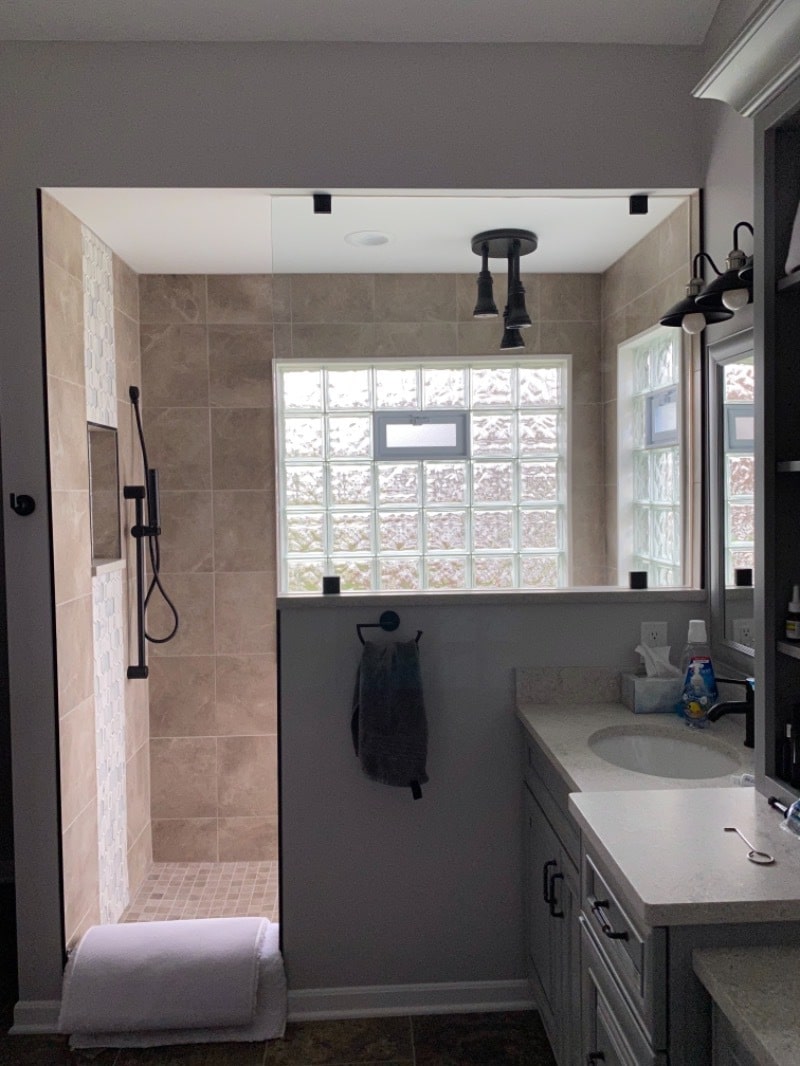 "You took some measurements, you listened to what I had to say, and being an entrepreneur, both of us understood cost is always a factor, but I had a dream that I wanted to implement in my bathroom." Alan continued, "So when we got to your showroom and you sat down with the computer and you put me in front of your monitor and my idea became reality with the software program that you had, that sold me."
The good vibes kept coming!  "The quality of the work that your employees do and the professionalism that you present, you are on the job several times checking on the guys, bringing materials to the guys. I would recommend your company and you and all your employees to anybody that would ever ask the question."
And so, where was the hiccup?  Well, it came when the work was all done and Alan got into the shower to enjoy his newly remodeled master bath.  In this episode, Brett explained the problem.  "We got a text on our communication system.  It said 'My water temperature is not as hot as it should be. I'm used to looking like a lobster when I get out of the shower."
Brett and Alan laughed for a bit as Alan remember the situation well.  "When my body temperature is warmer than the water coming out, that's a problem!" Added Alan.   Alan said that someone came over and reset the safety on the hot water valve act which worked perfectly.
Watch this episode and catch past episodes here, on the Simply Distinct "Tell Your Friends" YouTube Channel.  You can also find video and audio links at the Great Work Worth Talking About website, on Apple Podcasts, Heart podcasts, Spotify, and wherever you stream your favorite shows.
Kitchen and bathroom remodeling projects are beautiful when they are done and when they are done right.  But things can, and often do go wrong.  You should plan for that, and ask your contractor how they plan to handle any mistakes or issues during the project or after it is done.  If they say "Nothing will go wrong", then maybe you should consider continuing your search.  That isn't the most honest answer, and you should plan to ensure things are taken care of even when things go wrong.
A good contractor will hold himself and his team to high expectations, owning the good and the bad the entire way.  That's the mark of a solid contractor who has the experience to ensure your satisfaction. At Simply Distinct Kitchen and Baths, we want you to "Tell Your Friends", so we don't stop until you are 100% satisfied.
If you're in the market for a kitchen or bath remodel in Medina, Ohio, remember "Great Work is Worth Talking About".  Find a kitchen remodeling contractor people will recommend, and you'll be well on your way to improving your life, by improving your home.
For more information about Brett Ruiz, Simply Distinct Kitchens and Baths or the Tell Your Friends podcast virtual satisfaction guarantee, contact us at (330) 725-2235
Find these and all of the "Tell Your Friends" podcast episodes at www.greatworkworthtalkingabout.com